CHEAP CAMPSITE IN ÎLE DE RÉ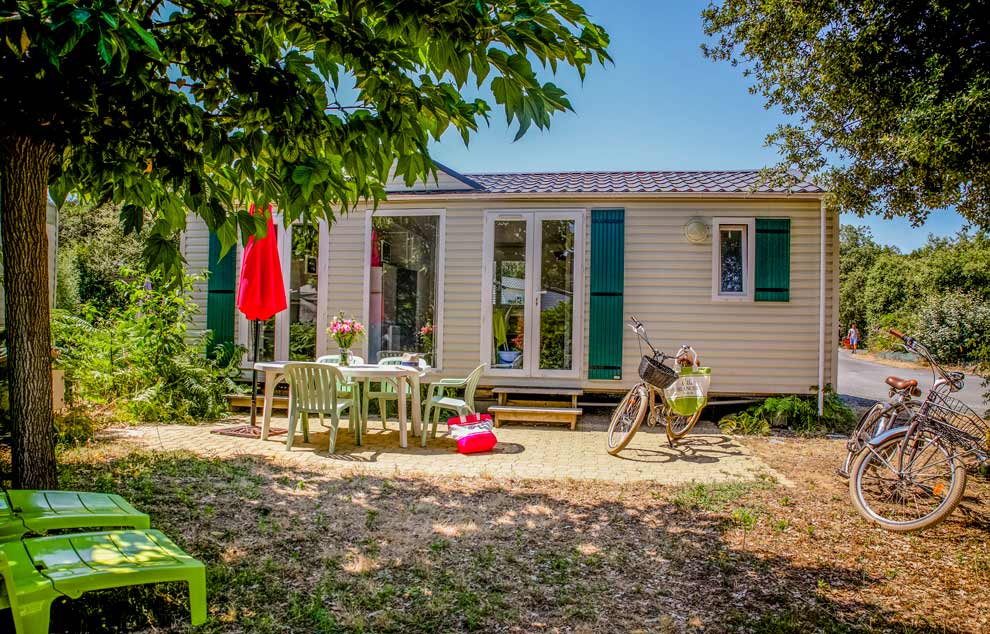 Cheap campsite stay on Ile de Ré
Who said that a campsite on the Ile de Ré was expensive?
Our Ile de Ré campsite regularly offers reduced rates on accommodation rentals for your stay in Charente-Maritime, close to the fine sandy beaches of the island.
Here you can find a low-cost rental to save on your vacation budget and preserve your finances, while enjoying yourself and your family.
Our campsite in Ile de Ré is economical thanks to its mobile homes for rent at very competitive rates. It also offers discounts and rebates through special offers and promotional rates not to be missed.
The quality of our 4 star service remains the same, even with cheap prices.
Our goal is to make your stay at the campsite a real success and to allow you to discover the Ile de Ré in the best conditions.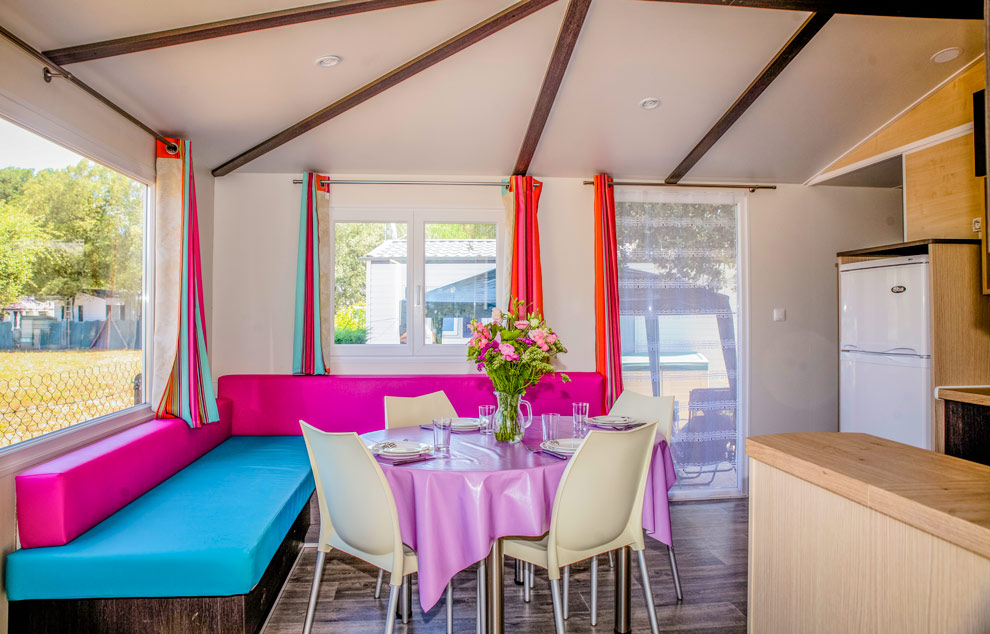 If you are looking for a cheap rental on the Ile de Ré to reduce your expenses without compromising on quality, the campsite L'île Blanche is made for you!
Enjoy the covered and heated swimming pool while keeping an eye on the promotions of our family campsite where even pets are accepted free of charge (subject to good behavior). You can walk along the sandy beaches of the Atlantic Ocean while staying in a cheap outdoor hotel ideally located on the Ile de Ré.

Mobile home rental in Ile de Ré for cheap
Are you looking for a cheap mobile home rental in Ile de Ré on the Atlantic coast ?
You will find at the campsite L'île Blanche a large choice of mobile homes or cottages for 2 to 6 people at very affordable prices. The rentals are spacious, bright, recent (less than 7 years old) and perfectly equipped to stay alone, in pairs or in groups, with family or friends.
Thanks to these discount accommodations, your economic vacations will rhyme with comfort: each cheap mobile home offers an excellent quality / price ratio.
The pitch of your vacation rental on the Ile de Ré will also allow you to go sightseeing or to enjoy the sun, the beaches and the sea air.
Indeed, your accommodation is ideally located in La Flotte-en-Ré.
Even with the campsite's promotions, tenants will benefit from all the services available.
Stay at the lowest rates and discover the Ile de Ré at a low price by booking your mobile home with our special offers !
Cots, high chairs and bathtubs are provided upon request for FREE.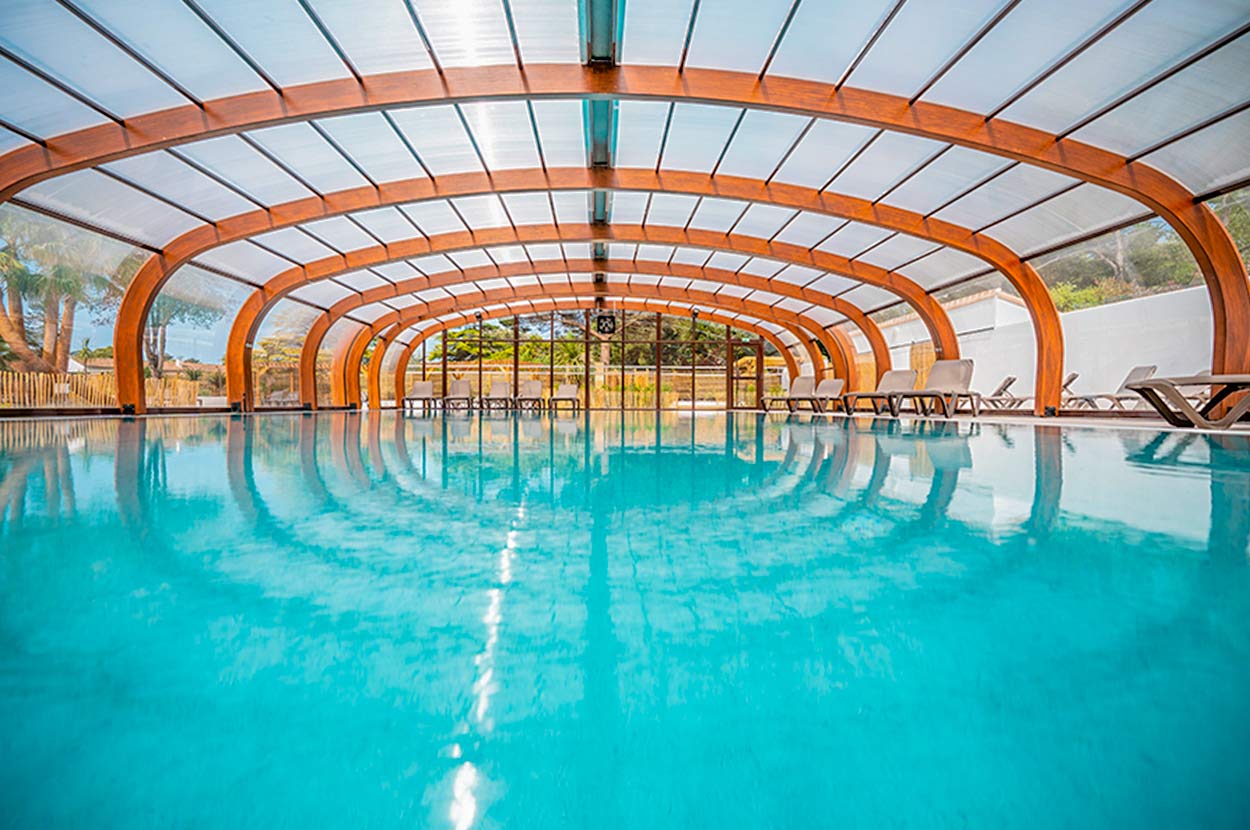 Ile de Ré campsite with swimming pool at low price
The campsite L'île Blanche enjoys a bucolic pitch, welcoming vacationers in a beautiful natural setting on the Atlantic coast.
The 4-star establishment also highlights the quality of its facilities, starting with those that make up its aquatic area.
During their family vacation, campers can enjoy a large indoor pool.
With its water heated to 28° C. from Easter to the end of September, the pool is conducive to various aquatic activities such as swimming, but also aquagym sessions and water polo tournaments organized during the summer by our friendly animators.
The campsite's indoor swimming pool is also a place of relaxation for the whole family. Campers can enjoy their moments of relaxation on the sunbeds installed along the pool.
Children are also entitled to their moments of happiness, thanks to a shallow paddling pool in which they can swim safely.
Our mobile homes for rent and for sale on the Ile de Ré